My latest Etihad Inspection Review
One of our Leisure Consultants, Katerina, was recently invited to view the new Etihad lounge and their new Airbus 380 and Boeing 787. Here's what she has to say ...
'The Etihad inspection started from the beautiful premium lounge at Sydney International Airport.
Etihad invites guests travelling in First and Business Class to enjoy their lounges around the world when departing on an Etihad Airways operated flights. Passengers in Economy Class can enjoy and book it before, by paying $99/pp.
You can relax and unwind before you go aboard within the lounge, featuring a five-star a-la-carte dining, along with a canape service, the business centre has high speed Wi-Fi and family rooms. Their is also a complimentary baby-sitting service available 24/7.
I was impressed with Etihad Economy 'Smart Seats' in the Airbus 380 and Boeing 787. They have a unique headrest that acts as a shoulder to learn on and surprinsingly generous recline and enough legroom space! Inflight meals with a choice of three main courses and a vegetarian option.
Business class with Etihad is great. They've created extra space where guests can work, rest and play. It's a luxurious and very comfortable way to travel! They have guaranteed fully-flat beds of up to 6-feet 8 inches, and you have a range of connection ports at your seat, including laptop power supply and USB ports. Comfortable seats with in-seat massage facility, will make your flight enjoyable, for sure! And you can dine anytime, with their new eat at any time menu!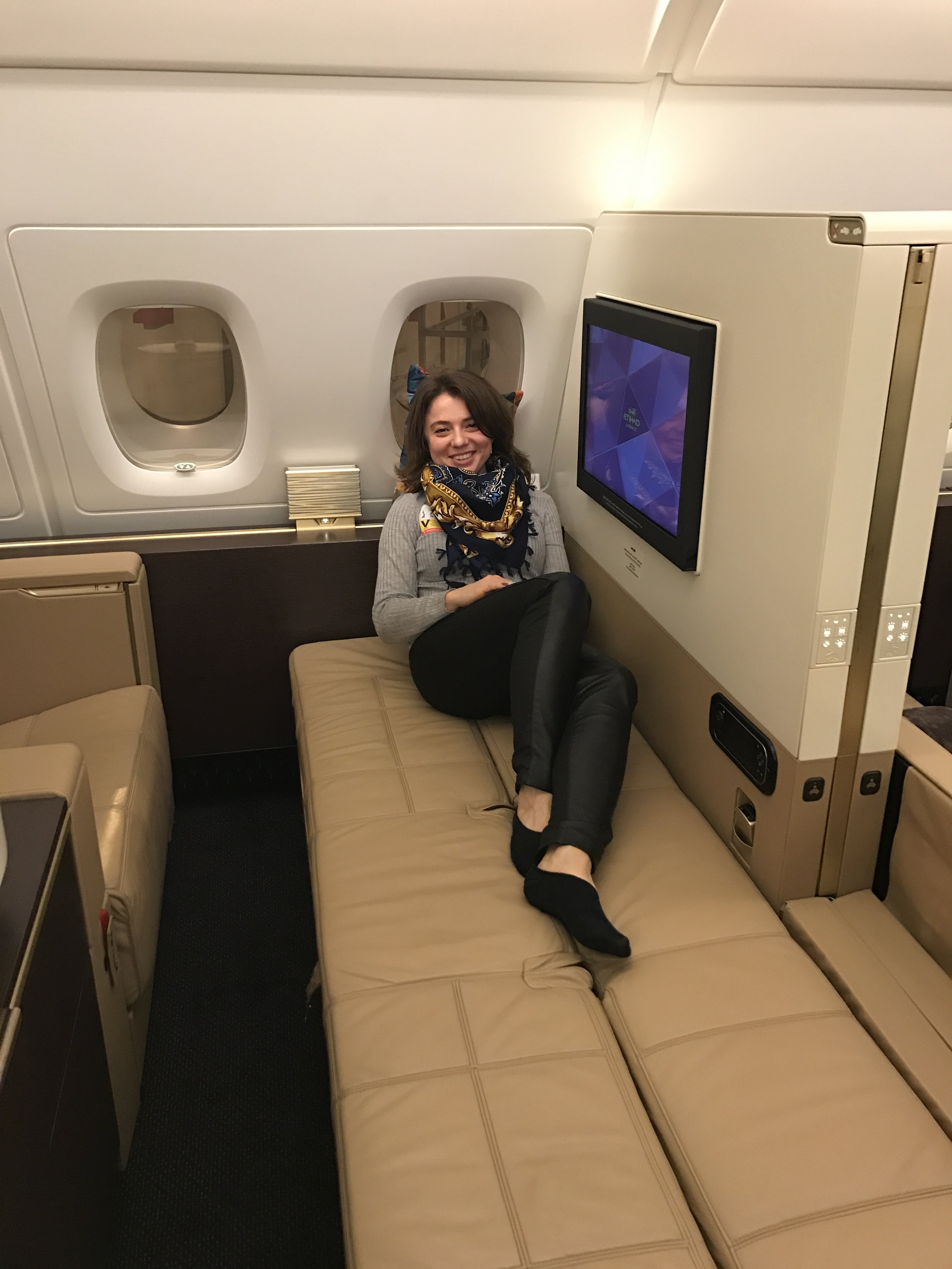 As a First Class guest, I felt myself indulge with luxury and was a truly remarkable experience. Every element of your journey will be unforgettable with the greatest levels of comfort. Separate armchair and a 6-foot 9 inch bed will make you feel at home!
Inflight Chef is ready to personalise a menu just for you. You have a personal wardrobe to hang your suit. You can enjoy a full height shower and exclusive amenities. You will feel total privacy as you close your sliding doors to enjoy the most personal of spaces. Travelling with a companion? You can also open the divider to join suites.
Don't forget, while you are a Business and First Class guest, you can also utilise the Etihad Chauffeur Service.
Also, with the essential Abu Dabi stopover, you can enjoy a complimentary night stay in a 5-star hotel in Abu Dhabi and Dubai. First Class guests, have two complimentary nights. Economy class guests can also take advantage and book two nights for the price of one!
Was a great experience, thanks Etihad and it's team for inviting myself and Metro Travel.'
Katerina Petukhova, aka, 'Sunshine Seeker'